The final day of residency is always bittersweet. We're really feeling the sleep deprivation and missing our homes and families. But we also don't want the week to end just yet. The last day is a short day. We have our final module in the morning and then the last workshop session and the graduation. We're done around 4pm and after congratulating the graduates our numbers gradually dwindle as people leave.
Most of us stay around one last night and go out to dinner.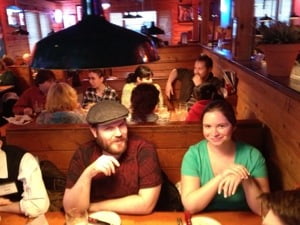 In the past residencies, I was so tired I'd just go back to the hotel room, call my family, watch a movie, and go to bed. But I was actually social this time around and stayed in the lobby with classmates and instructors. I don't drink but still had fun with everyone. But now that is all over and I'm sitting once more in the airport. It's not as crowded as I thought. I just want to get home to my wife and girls. Maybe I will write on the plane. Maybe I'll read Hexed by Kevin Hearne. Maybe I'll sleep.